If you've ever worked with SCOM then you'll know it needs a little love to get the most out of it.
Together with Tao Yang MVP, I co-presented a session called "20 Operations Manager Tips in 20 Minutes" at Experts Live USA this year which brings together many of the SCOM tips and tricks we've accumulated over the years. That session wasn't recorded, so we decided to publish the tips here for everyone to benefit from.
It's time to get your SCOM game on.
For more helpful SCOM advice from SquaredUp CEO Richard Benwell, also check out his 5 easy steps to achieve SCOM Success.
An obvious one to start with – get the latest version of SCOM! SCOM 2019 is one of the hottest releases of SCOM since 2012 R2. It's packed with some really valuable new features and finally solves some long running gaps in the SCOM platform such as HTML email notifications, closing of monitor alerts and advanced notification subscription criteria.
SCOM 2019 also comes with 10 years of support (5 mainstream plus another 5 years extended) so you can be confident that SCOM will be working for you well into the 2020's.
You can download the evaluation version of SCOM 2019 here:
See our guide to upgrading to SCOM 2019 here:
Upgrading to SCOM 2019 step by step
#2 Rename the Default MP to 'DO NOT USE'
An old one, but such a good one. The default management pack can be useful in a throw-away lab environment of PoC, but it shouldn't be used in a production environment. Once you have 2019 installed, rename the default management pack as one of the first things you do.
How to correctly implement Overrides
#3 Check the new 'Updates and Recommendations' pane
A recent new feature of SCOM is the 'Updates and Recommendations' pane. SCOM scans your environment using 'seed' management packs to discover what applications you have in your environment and then suggests management packs to install to monitor those applications.
#4 Tune the SQL databases
The performance of SCOM is only as good as the SQL databases that it runs on. The OperationsDatabase is critical to timely data collection and alerting, and the OperationsManagerDW will be vital if you start reporting and building dashboards with tools like SquaredUp.
Setting up the SQL databases for optimal performance can be a minefield, but there are some excellent resources out there that you should spend time reading before deploying your SCOM databases.
SQL 2012 and System Center 2012 R2 Database Tweaks
System Center Operations Manager Field Experience
For troubleshooting database performance, also check out these resources: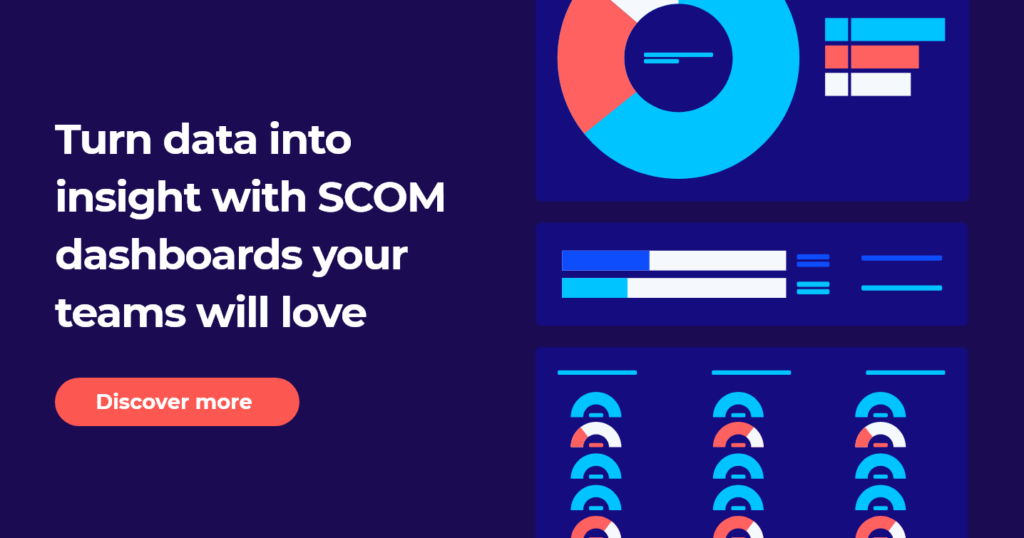 #5 Start with everything turned off, not turned on
When you speak to consultants who have been working with SCOM for many years, this is the one piece of advice you keep hearing. One of the best things about SCOM is the depth of monitoring, and one of the worst things about SCOM is the depth of monitoring. So many SCOM deployments fail to deliver organisations with effective monitoring because too many alerts get raised and the important ones get missed.
To save you sanity and make SCOM successful, disable all the monitoring in the MPs that you install, and then turn on what you need.
A new tool, EasyTune, is available from Cookdown that allows you to do exactly this.
#6 Use an MP backup script for audit/rollback
Another tool to get setup before it's too late is an MP audit and rollback solution. This is the undo button for SCOM.
Or the SCOM Self Maintenance MP
#7 Be proactive and meet with teams before installing MPs
Remember that monitoring is for the benefit of the teams who manage and support the systems – whether that's a central support team or individual application and technology teams. Before installing MPs and adding to the alert noise, meet with the teams who need the monitoring and ask them a) what they want to see in a dashboard and b) what they want to get notified about. Once you have the answers to those questions, install the MP and enable the monitoring you need.
#8 Enable HTML email notifications
When most IT users think of SCOM, they think of email alerts. Make sure SCOM makes a good first impression and enable HTML emails. This is one of the new features available in SCOM 2019. We'll cover the problem of too many alerts in tip #20.
#9 Route alerts to a ticketing system like Service Manager or ServiceNow
IT operations have come on a long way since SCOM was designed, and one of the clearest trends in operation is the use of IT Service Management tools on the service desk to manage incidents and tickets. These are tools such as Microsoft System Center Service Manager (SCSM) and ServiceNow.
SCSM integrates quite naturally with SCOM but for ServiceNow, check out Cookdown's ServiceNow integrations.
Service Now Connector by Cookdown
We're seeing many customers route the important, actionable SCOM alerts into these ticketing systems, which support more sophisticated workflows and management than SCOM. If an alert doesn't need to be actioned, then turn it off and show the data in a dashboard instead.
SquaredUp provides excellent dashboards that are not only pretty to see, but also interactable for the users as well as shareable! Take a look: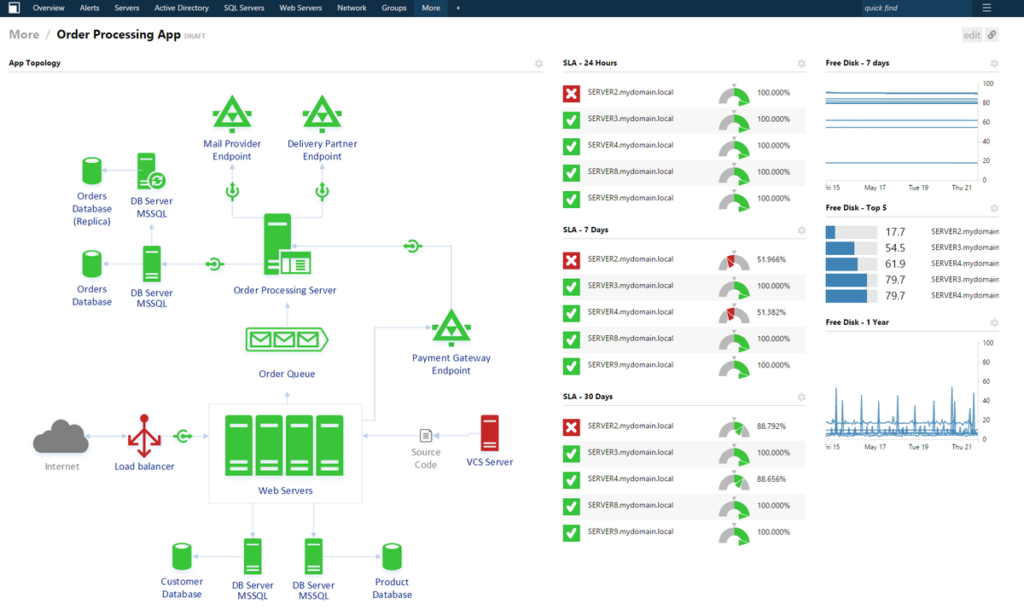 #10 Get the PowerShell Authoring MP
Bye-bye VBScript, hello PowerShell!
At some stage you'll want to create your own monitoring and when you do, you'll want to use PowerShell and not VBScript. Get this free essential add-on from Cookdown:
#11 Get the SCOM Self Maintenance MP
Speaking of essential add-ons, here's another one that should be a part of every SCOM deployment.
#12 Get Nathan Gau's Security MP
We decided to highlight this MP because it's relatively new, it's free and it's awesome. Written by Nathan Gau – a Premier Field Engineer at Microsoft – it leverages SCOM's breadth of system monitoring to provide security monitoring that is very hard to achieve with other tools. The MP contains a wealth of security monitoring knowledge but is also written in a way that allows you to start with the critical must-know vulnerabilities and add further depth when you need it.
Security Monitoring Management Pack
If we were to list of all the awesome free MPs available for SCOM we could easily fill up the rest of the 20 tips. Fortunately, the only other MP we have to mention is the MP-to-find-all-other-MPs – the Community Catalog MP from Cookdown. Install this MP to find and keep up to date with all of the free community MPs available for SCOM.
#14 Get Cookdown's Easy Tune

Say goodbye to the cumbersome task of manually tuning your Management Packs! Easy Tune allows you to review all the workflows in the management packs and make overrides to the default values in an easily manipulatable excel sheet. Simply import this back into SCOM and all the overrides will be done for you in a single click!
#15 VMs in Azure or AWS? Monitor them with SCOM
If you have VMs running in Azure or AWS then you don't even need a dedicated MP. Just get the SCOM agent on the VM and monitor them like any other server. You might want to deploy a SCOM gateway on a cloud server for optimal performance, or even deploy SCOM on servers in Azure (we're seeing an increasing number of SCOM deployments in Azure).
As further proof that Microsoft LOVES Linux, Microsoft have made huge investments in Linux monitoring with SCOM. SCOM comes with a built-in support to Linux monitoring and can be further extended to other flavours of Unix/Linux with Management Packs.
#17 Get MP Author, VSAE, fragments
There are several MP authoring solutions available depending on your needs and skills. Start with the PowerShell MP for the simple things, Get the free MP Author for authoring full management packs, and then look at MP Studio or Visual Studio Authoring Extensions when you really know what you're doing.
Visual Studio Authoring Extensions (VSAE)
MP fragment library by Kevin Holman
#18 Pick up some MP authoring skills on Microsoft Virtual Academy
How do you learn about MP authoring? Brian Wren's seminal course on the topic has been retired from MVA, but we found still alive on channel9. Download while you can!
#19 Try out AppInsights (now that Global Service Monitoring has been retired)
Microsoft had the right idea with Global Service Monitor, which let you monitor the availability of your applications from locations around the world using Azure – but last year it was retired. The good news is that Azure Application Insights does the same plus a whole lot more.
SCOM GSM moves to Retirement Home by Kevin Greene
#20 Don't just focus on the servers, monitor the applications
If you really want to be successful with SCOM, then monitor your business's applications, not just the infrastructure. You can make use of SquaredUp's awesome VADA technology to map out and monitor your applications, and isolate the source of the problem.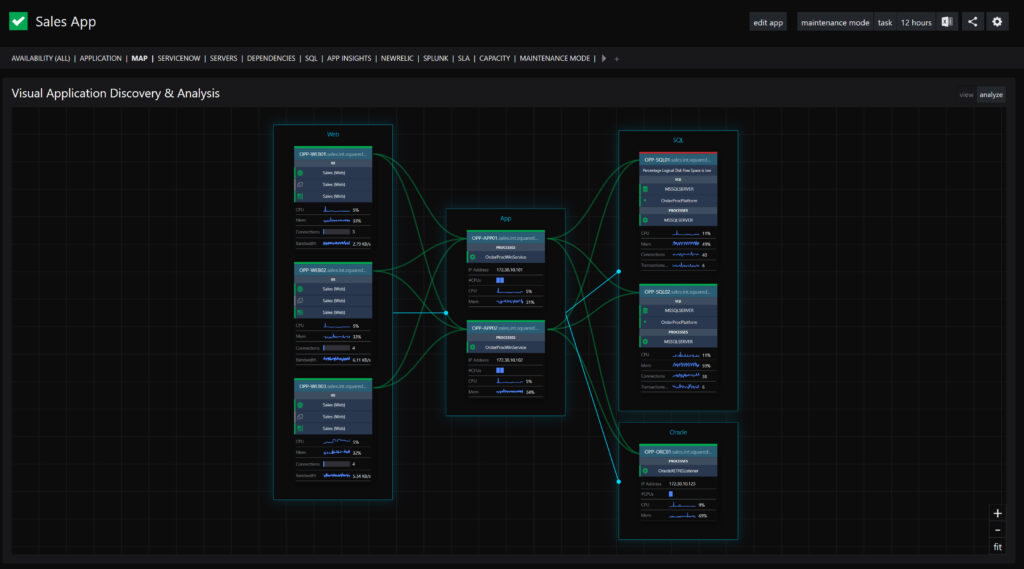 And at last, a bonus tip!
#21 Get some awesome dashboards 🙂
You know where to look!
For more helpful advice on achieving your SCOM goals, check out 5 easy steps to achieve SCOM Success.