We are delighted to announce the availability of SquaredUp version 4.3, continuing our approach of bringing you frequent updates to the product. Version 4.2 was released just two months ago, and 4.1 two months before that. Each new release brings bug fixes, quality improvements and in this case some cool new features too.
For a demo of these new features take a look at the webinar 'SquaredUp – v4.3
OVERVIEW
SquaredUp Version 4.3 brings some great new capabilities in three areas
New Performance Report tile: We have added a new type of Performance tile that enables you to make comparisons . You can either compare different metrics on the same chart, for example to identify correlations, or you can compare a metric with the same metric for a previous period, for example to identify trends or spot divergences from the norm.
Enhancements to existing performance tiles: You can filter & sort results to show the worst performing servers, for example.
Extended discovery of enterprise applications in VADA: When building an Enterprise Application map with Visual Application Discovery and Analysis (VADA) you can now discover Oracle servers (Linux and Windows), and can discover components through two additional load balancer types – NetScaler and Kemp load balancers.
New performance Report tile
We have introduced a new Performance Report tile. This is similar to the current line graph tile, but introduces a new concept of "layers". A performance report tile can have multiple layers, but each layer is added to the same graph – allowing you to show different metrics or different scopes on the same chart. For example, you could show memory utilisation with CPU utilisation, or compare connections per second on web servers with CPU utilisation on your database servers. Each layer can also be used to compare metrics with the same metric in a previous period – e.g. last week or last month.
When you configure the tile you are sent to a new full window page to make it easier to add the multiple layers without being in a constrained space. Any changes you make in this page are synchronised back to the dashboard that hosts the tile, but will only be published when you publish that dashboard.
We expect to add more capabilities to this tile over time – for example a separate y axis, the ability to save and export, and potentially additional visualisations such as bar/column chart. We would love to hear from you what improvements you would most like to see next.


Enhancements to performance tiles
We have also added some improvements to the existing performance tiles.
Line graphs and spark-lines can show the 'top n' results. This is really useful for when you want to just show the outliers/problems from a large collection of resources, for example showing which servers are maxing out or which disks are getting full.
New 'auto' resolution setting which automatically changes when the page time frame is changed by a user, to improve latency when drawing graphs over long time periods.
Bar charts and spark-lines can be sorted by value or label so you can for example see the computers with the fullest disks first.

Improved VADA mapping
Our Visual Application Discovery and Analysis (VADA) technology is at the heart of the Enterprise Application Designer.
In response to requests from partners and customers we have extended its ability to discover application components, specifically:
If you have the SCOM management packs for Oracle provided by NICE installed in SCOM, SquaredUp VADA will discover both Windows and Linux Oracle servers and add them to your application map.
Similar to the capability we added in version 4.0 for discovery of components through an F5 load balancer, if you have the SCOM Kemp community management pack installed, VADA will discover components downstream of a Kemp load balancer and let you add them to your application topology.
Likewise if you are using Citrix Netscaler load balancers, and have the Citrix management pack for SCOM installed, VADA will discover components to add to your network topology through the Netscaler load balancer. There are some restrictions here due to the more limited capabilities of that management pack.
SquaredUp will check for the presence of these management packs, and will enable the associated discovery source to enable automatic VADA discovery. The settings page for EAM lists the possible discovery sources and provides details of where to acquire any missing management packs.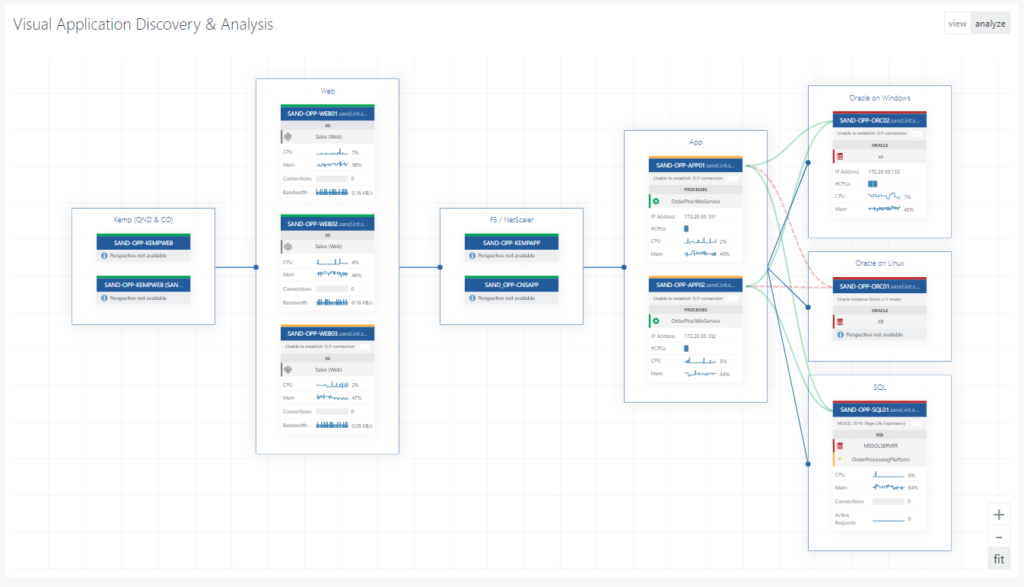 MORE INFORMATION