We are delighted to announce the latest versions of our Azure and SCOM products. In this blog I'll share the highlights of what's new, including an update to Open Access which is now available in both Light and Dark themes!
This unprecedented time has changed our ways of working at SquaredUp. Everyone has settled into the rigors of working from home and our Product Engineering teams have done an outstanding job with version 4.6. We are dedicated to more frequent releases this year in order to get improvements into your hands faster than ever, and we're not going to let the current climate slow us or our customers down.
Sharing Dashboards with Open Access
Dark Theme in SquaredUp for SCOM was eagerly anticipated by the SquaredUp community – when version 4.5 was released in March we were overwhelmed with positive responses. Now in version 4.6, we're excited to unveil Dark Theme for Open Access, so the same great theme choices you get in our application dashboards are now available for unlimited sharing and display on your wallboards.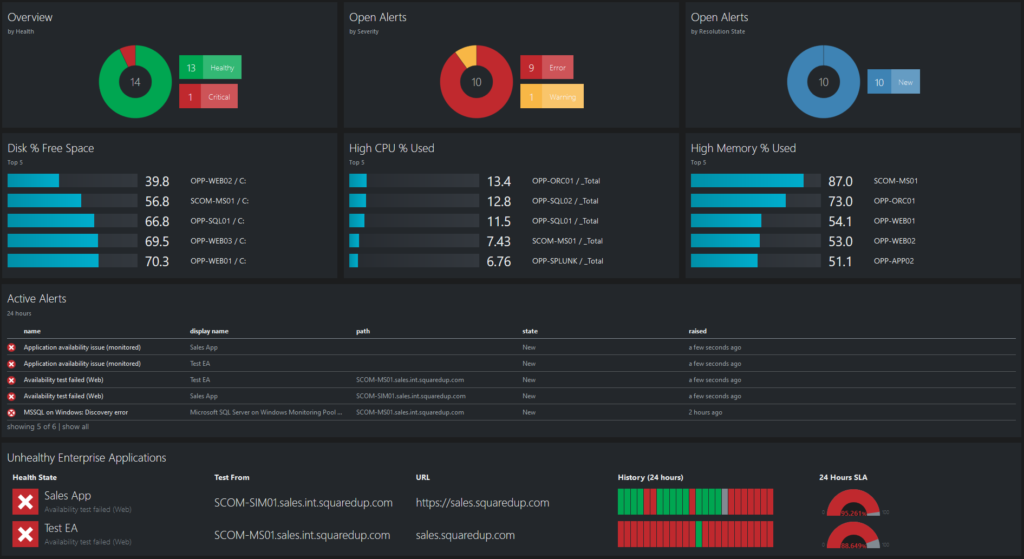 Cost Management Insights
SquaredUp for Azure helps you gain control of expenditure in Azure, and we've been getting great feedback from our customers on how SquaredUp is helping them get a grip on Azure costs. In this release, we've worked on new features that help reveal where the largest spends are occurring, alongside new and update prebuilt dashboards.
For a demo of all the new features please head over to the 'Release Webinar: SquaredUp v4.6', with me and our Chief Product Officer, John Shaw.
Here's a quick summary of everything new in these product releases:
Open Access themes. Choose between light and dark themes for dashboards that are shared with the whole organization.
Dashboard pack upgrades. When upgrading, the latest pre-built dashboards will be automatically updated, and modifications you've made will be handled through a conflict resolution wizard.
Azure Cost Management Insights. Get deeper insights into Azure cost spends with interactive drill downs into the beautiful Sunburst and Treemap visualizations, coupled with an all new, pre-built, Cost Overview dashboard.
Support for Azure Lighthouse. Managing multiple tenants in Azure is overly burdensome without Azure Lighthouse; SquaredUp for Azure is now confirmed as fully compatible allowing the creating of multi-tenanted dashboards simple.
Azure Marketplace Deployment. A collection of enhancements to improve the experience of deploying SquaredUp from the Azure Marketplace; most notably the automatic generation of SSL certificates with Let's Encrypt.
Enhancing security. Version 4.6 brings new enhanced security settings; for example, to embed websites that have JavaScript, or other rich web technologies in the Web Content Tile simply utilise the new whitelisting configuration. See Why won't this webpage display? for further details.
Find out more at:
We hope you love this version, and I'd love to hear your feedback and ideas for future releases; simply drop an email to [email protected].