I am delighted to announce a big new initiative that we have been working on here at SquaredUp. Our engineers have been working their socks off to build a new product, SquaredUp for Azure, and it's shaping up very nicely.
It's not ready for you to play with quite yet, but we plan to have an early release available for enthusiastic testers in late September. We wanted to tell you about this before you head out for your holidays so you can apply to get on the list to try this out.

What is this new Azure product?
It is a dashboarding product that will run natively against Azure. It will let you build and share compelling dashboards that show you and your colleagues the state and performance of all your applications and resources, with automatically generated dashboards/perspectives and drill-downs. It will pull in performance metrics from Azure Monitor, as well as let you visualise and share a wealth of other data from the Azure environment like the cost of resources, log analytics, resource maps and so on.
Single pane of glass, no strings attached
You hear a lot of talk about a single pane of glass, but all too often the single pane of glass only works if you move all your tools and platforms to the vendor that offers the glass. The SquaredUp vision is to give you the pane of glass, with no tools, and no strings attached. To that end, we will extend our ability to bring in automatically scoped data from other tools via REST APIs, and make it much easier for you to do, by providing out of the box integrations, starting with visualising Service Now incidents and change requests related to the resources on a dashboard.

Familiar UI for users of SquaredUp for SCOM
This new product will share a codebase with our SCOM product, and feature a very familiar user interface and set of capabilities for those of you who are current SquaredUp customers, but it will be a separate installation just for Azure, with no dependency on SCOM.
And for those who are wondering, yes it will need a separate license from the current SquaredUp for SCOM product. We haven't finalised pricing yet, but our plan is that it will be priced like our current product for SCOM – per user. We also plan to make it attractive for customers who are hybrid between SCOM and Azure/Azure Monitor to license both products at once.
Snazzy dark theme(!)
And as the icing on the cake it will have the option to run in a Dark Theme, with snazzy colours (or colors) against a dark, Wall Monitor friendly background as well as our current Light Theme. It looks very cool….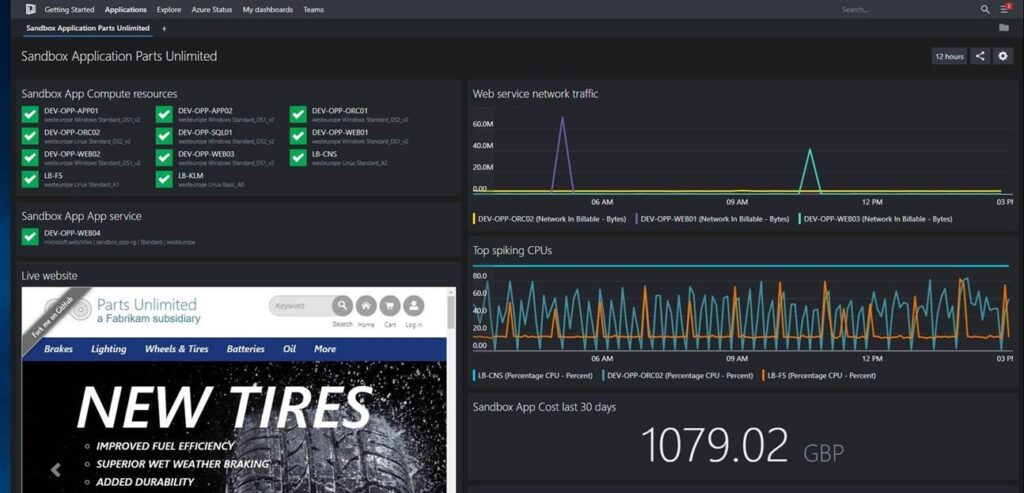 Thank you and have a great Summer break (or Winter break for those of you in the other hemisphere).