HTML5 SCOM console
Well, this is an interesting feature for us, given that we're known for producing awesome HTML5 dashboards for SCOM 😊.
So, the good news is that Microsoft have finally got around to developing an HTML5-based console, meaning that you can wave goodbye to those pesky Silverlight dependencies and finally draw a line under the User Voice's most requested feature.
To create a dashboard in the new SCOM console, you'll be able to select from a choice of six different widgets:
Alert widget
State widget
Performance widget
Topology widget
Tile widget
From our perspective, this is something Microsoft simply had to do; you can't go releasing a new product in 2018 with Silverlight dependencies and expect to remain credible. So, from where we're sat, this is a positive move and will hopefully help remove an obvious objection that new organizations have to adopting SCOM.
In terms of deriving value from Ops Manager via the console, we've always been very clear that we think the SCOM console is simply too confusing and fundamentally-dated in it's UI design principals to allow non-expert users to get much value from the underlying platform (to say nothing of the console's general speed and performance).
But if you want your users to truly engage with SCOM and make the most out of the power of the platform and all that juicy performance data you're collecting, then there's only one thing for it! A SquaredUp free trial.
Improved Linux monitoring
We'll start this section by quoting Microsoft direct;
"Operations Manager now has enhanced log file monitoring capabilities for Linux servers by using the newest version of the agent that uses Fluentd."
A full list of the benefits expected to go along with this Fluentd upgrade can be found here but, to put this in slightly more meaningful form, MVP Stefan Roth explains;
"In the past it was not the best experience to monitor Linux log files using the available management pack template wizard. Well it worked but it was somewhat limited. The new Fluentd module comes with the latest Linux agent delivered in the newest Linux management packs."
Stefan has written a nice piece on Linux monitoring using the Fluentd setup so, for more information on improved Linux monitoring we recommend checking out his article.
Again, this move makes sense from Microsoft as there should be lots of growth in extending SCOM – which is still predominantly used for Microsoft-centric workloads – into customers' Linux estates as well, but that means upping their game.
To be honest, we still see a fair degree of skepticism around monitoring Linux with SCOM but, in fairness, that's often comes from inherently hostile Linux admins but we know first-hand that there's lots of customers successfully monitoring large Linux estates with SCOM already. For a great example, check out this Case Study from Purdue University who are monitoring a Linux estate of nearly 1,000 servers with SCOM and, as you can see from the Case Study, their SCOM environment absolutely flies!
Linux Kerberos support
The System Center Preview 1711 notes for Kerberos Support detail that;
"Operations Manager can now support Kerberos authentication wherever the WS-Management protocol is used by the Management Server to communicate with UNIX and Linux computers. Adding Kerberos support for UNIX and Linux computers provides greater security by allowing the Management Server to no longer need to enable basic authentication for Windows Remote Management (WinRM)."
Let's not pretend this is particularly exciting stuff, the word Kerberos alone is enough to send a chill down the spine of most sys admins, but if you really want to know all about the pre-requisites and setup instructions, simply follow the above hyperlink.
Enhanced SDK client performance
Improvements in this area should now mean the SCOM console remains responsive while Management Packs are being imported or deleted or when configuration changes are being saved to an MP. We're certainly hoping Microsoft delivers on this in 1801, it's been a real pain point for a lot of clients and, given that we regularly make MP changes in our own SCOM environments, we know this pain only too well.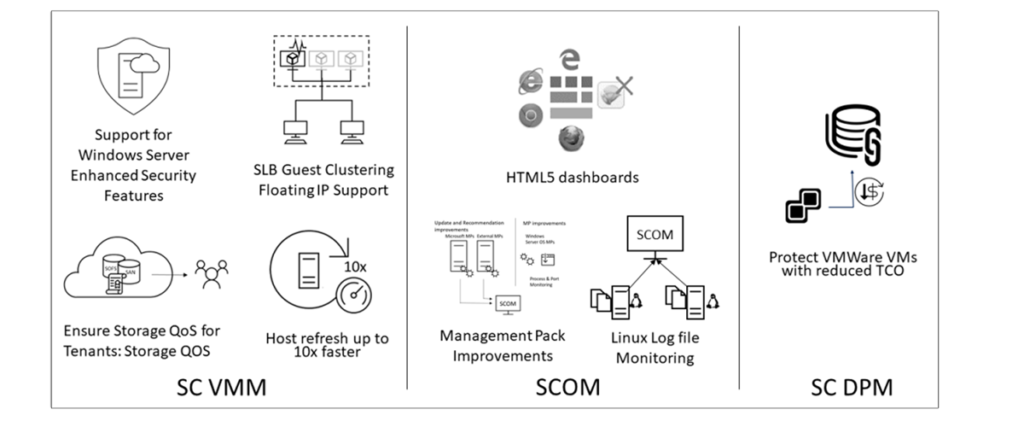 Updates and recommendations for third-party Management Packs
Ok, so this is a good move. Basically, the MP Updates and Recommendations feature from SCOM 2016 will be updated to also include third-party management packs (e.g. from vendors like Veeam or Comtrade).
"In System Center 2016 we released the MP Updates and Recommendations feature which has been expanded now to include discovery and downloads of third-party management pack updates, based on feedback from customers."
However, if you like that, you'll LOVE this.
We recently released the awesome Community MP Catalog, which allows you to easily discover and manage the best MPs freely available via the community. Needless to say, the Catalog itself is also completely free and open source.
Using the catalog you can easily find MPs covering everything from security monitoring to using SQL queries to create custom monitors, and even for helping you tune SCOM itself.
Basically, this is a new must-have MP for SCOM, simple as that, and there's no need for you to wait for SCOM 1801.
Improved UI responsiveness with large number MPs
There's not much to add on this one, but as a company that takes UX very seriously, we're always pleased to hear of developments from Microsoft that help make the SCOM experience less clunky.
Service Map integration
Well, given that we have an automatic application discovery and mapping feature of our own, I guess we're kind of biased on this one.
We certainly understand why it's important for organizations to discover and map their applications, we're just not sure why they'd want to use a whole new product stack (including a new agent and Azure / cloud dependencies, not to mention a complicated commercial model) to run discovery when they could just get SCOM to do that instead? Let's face it, you've gone through all the pain of setting up your SCOM infrastructure and agents already, do you really want to go through all that again for what's essentially just a 'feature'?
So, first things first, if this is an area of interest, we implore you to do yourself a favour and check out Visual Application Discovery and Analysis (VADA) before doing anything else!
However, if you've already gone the Service Map route, what will 1801 mean for you? Well, essentially, you're going to be able to sync your maps in OMS down to SCOM, albeit with some caveats. If this is something you're considering, you may want to take a closer look at the MP involved in the synchronisation and check that the architectural approach is going to scale for your environment.
Beyond 1801
We're guessing that you're reading about what's new in 1801 because you already have SCOM and are looking at what's coming down the line from Microsoft.
Well, why don't we take this opportunity to talk about the bigger picture for a moment.
Let's face it, the world has moved on from infrastructure monitoring. Your business cares about the availability and performance of applications and services – not servers and disks.
That's the challenge of Enterprise Application Monitoring.
SquaredUp answers this challenge by building on your existing investment in SCOM and putting the application model at the center of your monitoring experience. From stunning HTML5 dashboards to automatic application discovery, from lightning fast performance reporting to integrating data from ServiceNow and Splunk, take your monitoring experience into the future with SquaredUp. But don't just take our word for it, take SquaredUp for a free 30-day trial – you'll be amazed by the results.