The first product to let you build live, interactive 360° dashboards that give you complete visibility of your cloud-hosted applications.
Today is the start of an exciting new chapter at SquaredUp. The biggest release in the history of our company – SquaredUp for Azure – is now live!
In this announcement blog I'll cover:
What it is and how it works
Why we've developed it
What it means for our SCOM customers
Read on below for the highlights of this exciting new release, and join us for the live release webinar this Wednesday 30 October.
What is SquaredUp for Azure?
If you haven't already seen SquaredUp for Azure, here it is in all its (dark theme) beauty: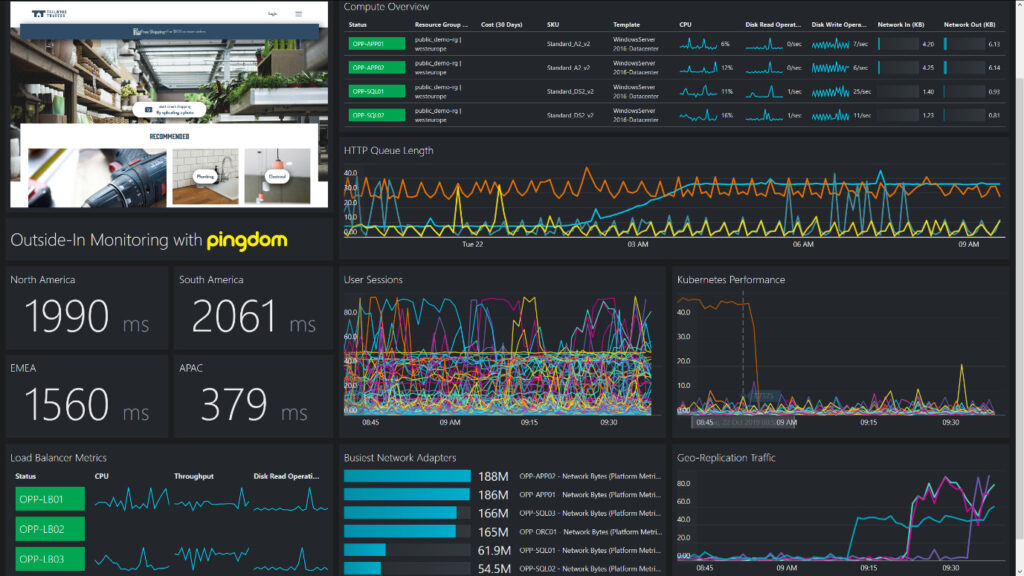 SquaredUp for Azure is a 360o application dashboard platform for your Azure-hosted applications. It delivers real-time, interactive IT operations dashboards that are designed to monitor every app, to be shared with every team, and to cover every angle of application availability, performance and cost.
No more digging into a dozen different tools – this is the one place to get the full picture of your Azure applications.
How does it work?
SquaredUp for Azure is available now in the Azure Marketplace. You simply deploy into your own Azure tenant as a single self-contained VM (no database required!) and you're ready to get started in minutes. Connecting natively with the Azure platform and Azure Monitor APIs, you'll get some amazing dashboards out of the box, including real-time performance and cost metrics for your Azure resources.
The real delight comes when you switch into the dashboard designer mode, connect with your external tools such as ServiceNow, Pingdom, New Relic and others, and start creating complete 360o dashboards for your applications.
There's so much more to cover in this new release: look out for an upcoming blog from our Chief Product Officer, John Shaw, who will go deeper into the features available in the SquaredUp for Azure.
Why SquaredUp for Azure?
SquaredUp was founded in 2011 to use modern, web-based data visualisation to make the world's largest IT systems and most complex applications beautifully simple to run.
We have been successfully doing that for hundreds of enterprises worldwide with our dashboards for Microsoft System Center Operations Manager, integrating data with other IT operations tools such as ServiceNow, Splunk and New Relic.
Today, we've brought those capabilities to the Azure platform. Why now?
Many of today's enterprises are facing the challenge of migrating to the cloud. Typically, our customers who are moving to Azure are migrating 10–20% of their existing workloads, while their enterprise DevOps teams start to adopt new cloud technologies for cloud native applications.
In the past few years Azure Monitor has matured and now provides a strong set of capabilities baked into the Azure platform. But organisations still struggle to get clear visibility of their cloud-hosted applications, in part due to the continued fragmentation of monitoring tools. Industry analysts, Gartner, creatively describes this as "swivel-chair monitoring" in their How to Build an Ideal Performance Monitoring Dashboard research.
Integrating natively with Azure Monitor and with your other IT operations tools via APIs, SquaredUp for Azure brings all of your monitoring together. It finally delivers that elusive single pane of glass, providing the visibility and control IT organisations crave.
What does this mean for SCOM customers?
It's fantastic news! I'll tell you why.
We've developed SquaredUp for Azure on a common platform, meaning that many of the innovations we'll be delivering in the upcoming months will be available for both Azure and SCOM dashboards. We passionately believe that the mighty SCOM is unsurpassed when it comes to large-scale enterprise infrastructure monitoring. Just like many other established, trusted, enterprise data-centre technologies, SCOM is not the future of computing. But it is here to stay.
We're so confident in SCOM as a platform, earlier this year we spun out an exciting new company called Cookdown to drive continued innovation on the underlying SCOM platform, including EasyTune and ServiceNow integrations.
Here at SquaredUp, we'll continue to invest in our SCOM dashboards (now named SquaredUp for SCOM) alongside Azure. So, if you still depend on SCOM then you can depend on us.
Want to see SquaredUp for Azure in action?
I hope you'll join me and John for our live webinar this Wednesday 30 October, as we demo our 360 application dashboards to the world for the first time.
Next week, 4–8 November, SquaredUp are Gold sponsors at Microsoft Ignite 2019 in Orlando, Florida. If you're lucky enough to be attending Ignite, please drop by the booth to meet me and the team behind this exciting new product. We're at booth 741 but we'll be hard to miss: just look out for the large stack of Lego X-Wings 😉
Last but not least…
Thank you to the amazing team here at SquaredUp who have made this happen, and to our loyal customers and community who have supported us on this journey.
Happy dashboarding!