The unified observability portal
Say goodbye to blind spots and data silos. SquaredUp gives IT and engineering teams one place to see everything that matters.
We wanted to create a modern observability platform with the tools we already had. SquaredUp provided the missing visibility piece.

Anthony Ashmead, Enterprise Monitoring Lead
Why pay to duplicate your data?
Unlike conventional attempts at a single pane of glass that copy everything into a single data store, we leave the data where it lives and stitch it together into an observability data mesh.
Wherever your data lives, it's here.
No data duplication
No per GB storage costs
No integration headaches

Discover the SquaredUp observability portal
Connect
Visibility beyond metrics, logs, and traces
What signals really matter to you and your business? Use the 60+ pre-built plugins to get complete visibility from customer to code. Or use the Web API plugin to integrate with any data source.
Surface
A beautifully simple way to find and share answers
Wherever your data is, SquaredUp's powerful and flexible interface makes it easy to find, visualize, understand and share.
Visualize data your way and keep dashboards private or share with the rest of the team.
Monitor any data from any tool and get notified in Slack, Teams, or ServiceNow to proactively respond.
Combine multiple data sources and run advanced SQL queries to unlock deeper insights.
Search for objects and data across all of your tools for answers at your fingertips.
Summarize
The big picture across teams and tools
It's easy to get lost in the noise. SquaredUp's unique roll-up architecture gives individual teams ownership over their tools and data, while providing status and KPIs to management and stakeholders.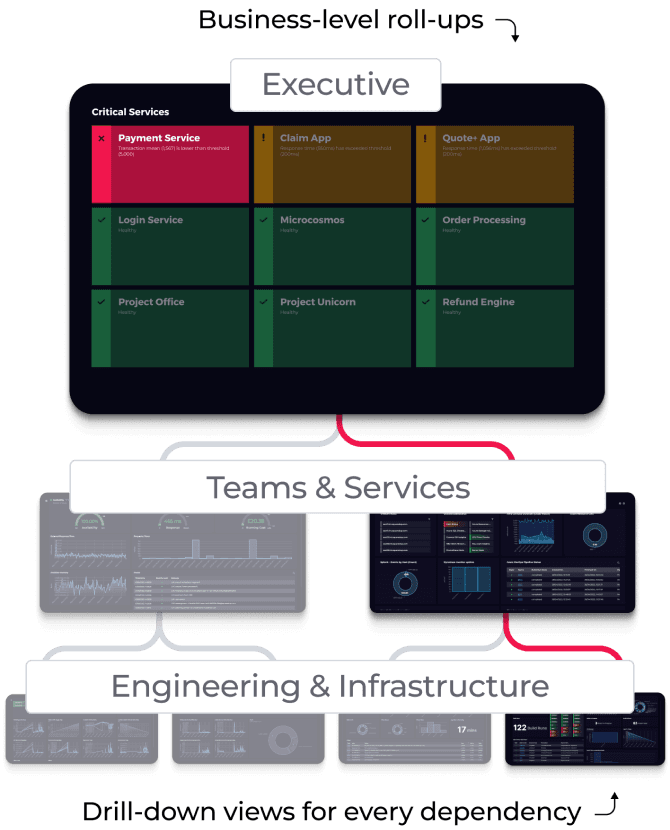 Get everyone onto the same page
We help modern IT, engineering and product teams work together by surfacing and sharing data across silos to reduce costs, improve reliability, fix problems faster, scale further, and deliver better customer experiences.
Management
Stay informed with real-time KPIs and status.
IT Operations
Proactively monitor your infrastructure all in one place.
FinOps
Explain cloud costs to prevent over spending.
Engineering
Gain deeper insights into engineering velocity.
SRE
Measure reliability of your service dependencies.
Incident response
Know where to go when things go wrong.
DevOps
Monitor and troubleshoot your critical automation.
What insights do you need?
The possibilities are endless.
Together, let's make observability better
3000+
community members
Connect with a community of experts to share and find answers
1500+
podcast listeners
Watch episodes dedicated to observability and SRE
99%
customer satisfaction
Access SquaredUp docs, videos, and a friendly support team
Top 10
best workplace 2023
Discover the vision, people, and values that make us unique
Figures taken from the average of the last 12 months, as of the end of August 2023