Wherever your data lives, it's here.
Say goodbye to blind spots and data silos. Join hundreds of engineering teams using SquaredUp to gain end-to-end visibility of their business-critical applications.
"We wanted to create a modern observability platform with the tools we already had. SquaredUp provided the missing visibility piece."

Anthony Ashmead, Enterprise Monitoring Lead
Break free from the data warehouse
Get the benefits of unified data without the headaches of moving the data. Unlike other monitoring and observability tools that try to copy everything into a single data warehouse, we leave the data where it is and stitch it together into an observability data mesh.
No data duplication
No per GB storage costs
No complex integrations

Discover the unified visibility layer
Connect
Instant access to 100+ data sources
Take advantage of 60+ pre-built plugins to get visibility across the entire application lifecycle – from server to service, code to customer. Or try our easy-to-use Web API plugin for a custom integration to any data source.
Surface
A versatile interface to unlock insights
Standardize data visualization across a sprawl of tools. SquaredUp is powerful and flexible, yet easy to use, so you can get more answers out of your existing tech stack.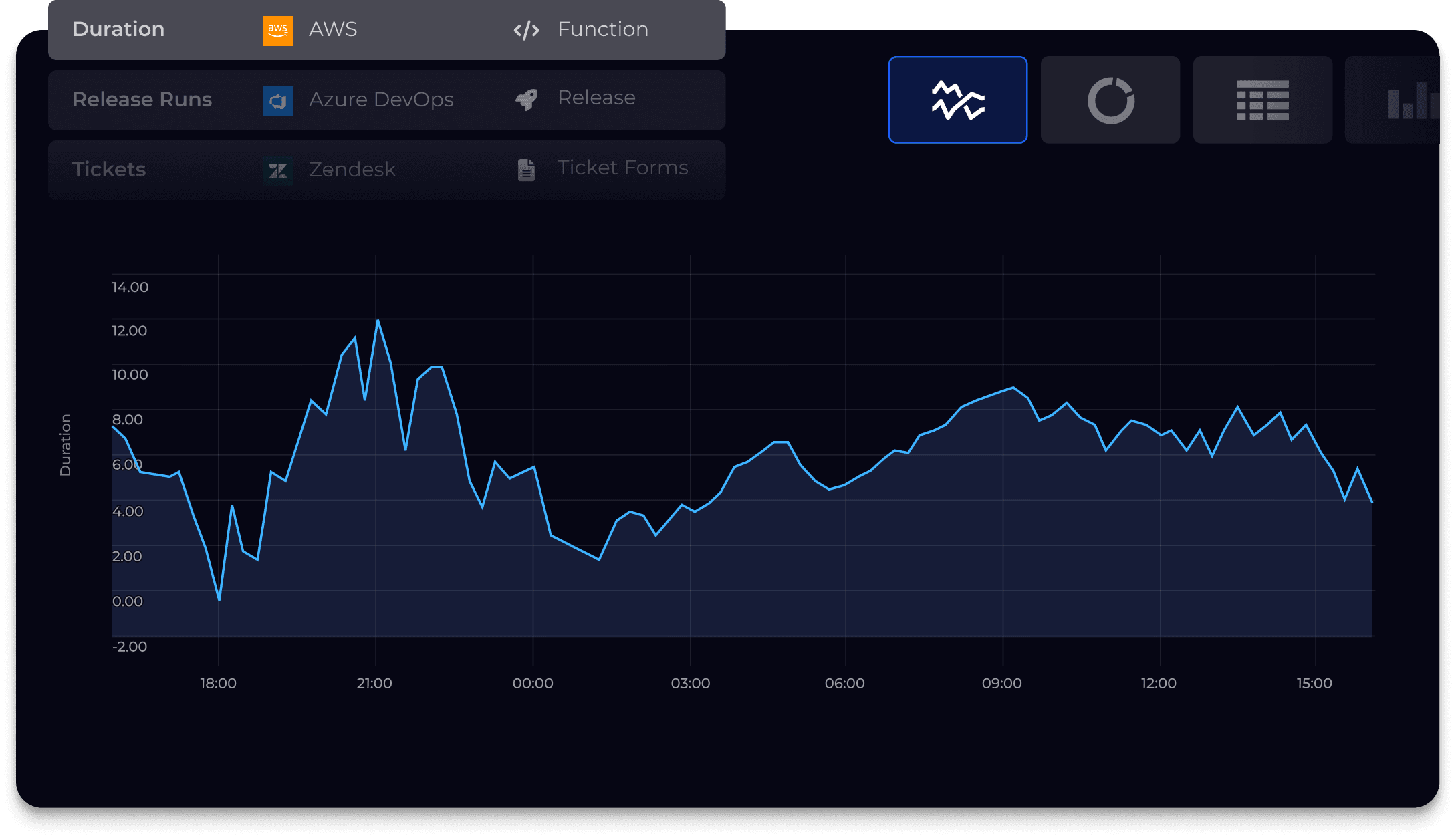 Flexible dashboards
Visualize data your way and keep dashboards private or share with the rest of the team.
Effortless monitoring
Monitor any data from any tool and get notified in Slack, Teams, or ServiceNow to proactively respond.
Powerful analytics
Combine multiple data sources and run advanced SQL queries to unlock deeper insights.
Universal search
Search for objects and data across all of your tools for answers at your fingertips.
UNIFY
Centralized visibility across teams and tools
Bring together everything you need to stay in control. SquaredUp maps and monitors your dependencies – spanning different tech stacks, tools, and teams – and rolls it all up into a big picture view.
Every team.
Any insight.
One platform.
We help modern IT, engineering and product teams use their data to reduce costs, improve reliability, fix problems faster, scale further, and deliver better customer experiences – all in one place.
Management
Stay informed with real-time KPIs and status.
IT Operations
Proactively monitor your infrastructure all in one place.
FinOps
Explain cloud costs to prevent over spending.
Engineering
Gain deeper insights into engineering velocity.
SRE
Measure reliability of your service dependencies.
Incident response
Know where to go when things go wrong.
DevOps
Monitor and troubleshoot your critical automation.
What insights do you need?
The possibilities are endless.
Passionate about making data work
3000+
community members
Connect with a community of experts to share and find answers
1500+
podcast listeners
Watch episodes dedicated to visibility, observability, and SRE
99%
support satisfaction
Access SquaredUp docs, videos, and a friendly support team
Top 10
best workplace 2023
Discover the vision, people, and values that make us unique