Dashboarding Azure Monitor SCOM MI in SquaredUp
Bruce Cullen
Director of Engineering, SquaredUp
Big news! Microsoft have just dropped Azure Monitor SCOM Managed Instance (SCOM MI), their cloud-based version of SCOM.  
It's fully Microsoft managed, and so it promises to take the headache out of deploying, scaling, and managing your SCOM Management Groups. 
Read Microsoft's announcement blog to learn all about it. 
If you're considering migrating to SCOM MI, here are three reasons you should:  
Simplified SCOM infrastructure management: It's fully Microsoft managed, so you're not responsible for updates, management group maintenance or security patches.  
Protect your existing SCOM investment: SCOM MI is compatible with all Management Packs and allows you to migrate configurations from your existing on-prem setup.  
Seamless migration: No monitoring disruptions while you migrate from on-premises to the cloud.  
To celebrate this highly anticipated release, we've partnered with Microsoft to bring you our dedicated SCOM MI plugin, a tailor-made solution for SCOM MI reporting.  
Read on to learn:  
Elevate your SCOM MI reporting with SquaredUp
With SquaredUp's 60+ plugins, you can visualize your SCOM MI data alongside VMware, SolarWinds, Zabbix and more, for the ultimate single pane of glass.  
See everything you need to proactively monitor performance, availability, capacity, and much more, all in one unified view.  
Unlike other observability platforms, SquaredUp connects directly to the APIs of your tools, instead of copying the data into yet another database. You can keep costs down and get instant results, all without maintaining data pipelines.  
Just point and click to build custom, flexible dashboards without the need for complex queries or analyst expertise.  
Here's five ways SquaredUp can elevate your SCOM MI reporting: 
Create dynamic SCOM MI dashboards with our slick new dashboard designer. Effortlessly surface your metrics, shape the data and configure your visualization, all in a few clicks. 
View your SCOM MI data alongside other tools for greater context. 
Monitor any data in real-time and receive actionable, contextual alerts to Slack, Teams, email and more.  
A summarized, status rollup view of your workspaces, dashboards and monitors to easily communicate status across the business.  
Share dashboards with stakeholders in one click.  
Get set up in two easy steps
Connect SCOM MI to SquaredUp
Before connecting to SquaredUp, you'll need to get set-up with SCOM MI. Microsoft has a detailed step-by-step guide on how to do that here. 
Once you're set-up, follow these simple steps:  
Log in to Azure, search for SCOM Managed Instance and click on the instance to connect. 
Under Reports click the Power BI tab. 
Copy DB Name and DB Host URL (You'll need these later when adding the data source to SquaredUp!)  
Click the SquaredUp link at the bottom of the page to login or create your free account.  
Please note, SquaredUp is also listed in Azure Marketplace.
Add the SCOM Managed Instance plugin
Once you've created and verified your account, you'll be able to quickly connect to SCOM MI and start dashboarding! Let's walk through the process. 
Upon creating your SquaredUp account, you'll land in an empty workspace where you're prompted to add a data source. For context, workspaces are where different teams can organize their data across the tools they use, so feel free to leverage this feature as you expand your monitoring.  
Click "add a data source" and choose from over 60 options. You can search for SCOM Managed Instance using the search bar at the top or browse using the filters on the left-hand side. 
Once selected, you'll be prompted to enter the following details: 
This is automatically added to help you identify this data source in the list of all data sources connected to your workspace. 
Enter the database name of the SCOM MI data warehouse. This value can be found in the Reports section of the SCOM MI instance.
The URL of the SCOM MI database server. This value can be found in the Reports section of the SCOM MI instance. Keep the comma and port after the URL. 
Enter the username of a SQL account to logon to SCOM MI. The username must have data warehouse reader permissions to access SCOM MI data. 
Enter the password of the SQL account.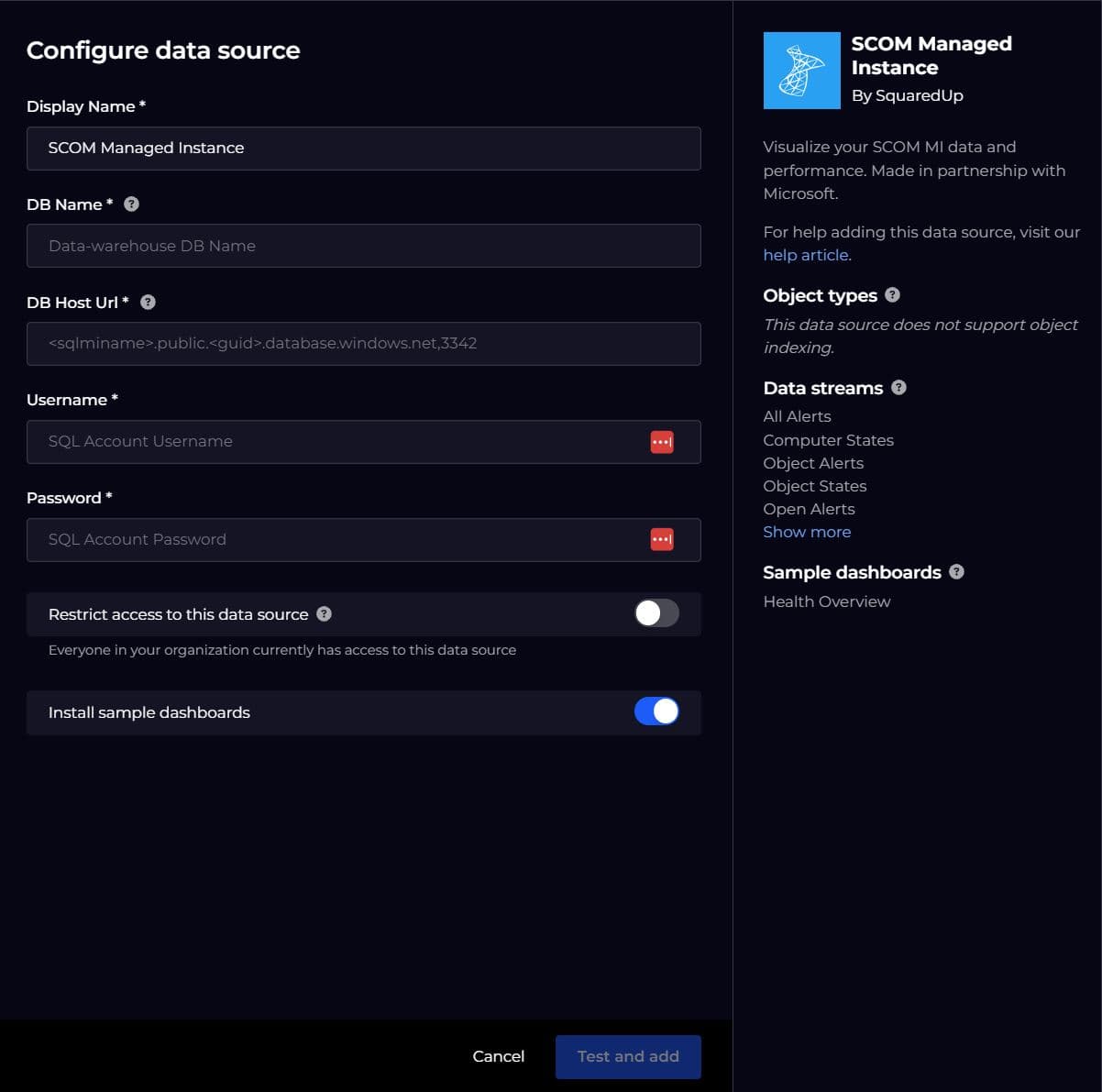 To see your live data automatically loaded up in our SCOM MI out-of-the-box dashboard, simply hit the bottom toggle "Install Sample Dashboards". 
For more detail on connecting the SCOM MI plugin, read our documentation.
Visualizing your SCOM MI data
Out of the box dashboard: Health Overview 
This provides a summary view of your open alerts, state and performance from SCOM MI.  
Customize your dashboard 
This out-of-the-box dashboard can easily be edited to make it your own. Simply hit the "edit" button in the top right. 
Hover over an empty space on your dashboard and click the '+' to add a new data, image, or text tile.  
To edit an existing tile, simply click 'edit' in the top right to add monitoring, KPIs and more. 
Build your own custom dashboard 
If you'd like to build your own custom dashboard, our revamped dashboard designer now makes it even easier. Find the metric you're looking for, shape the data, configure your visualization and add monitoring, all in a few clicks. 
The tile editor allows you to configure the data from your data sources and display it in any way you wish. Steps may vary depending on which data stream you select. 
Let's start building a dashboard. 
In the left nav bar, click the '+' sign next to the 'Dashboards' tab. 
You can add a title and description for your tile at the top of tile editor. 
There are three tile types to choose from: Data, Image or Text. For the purpose of this example, let's start with Data.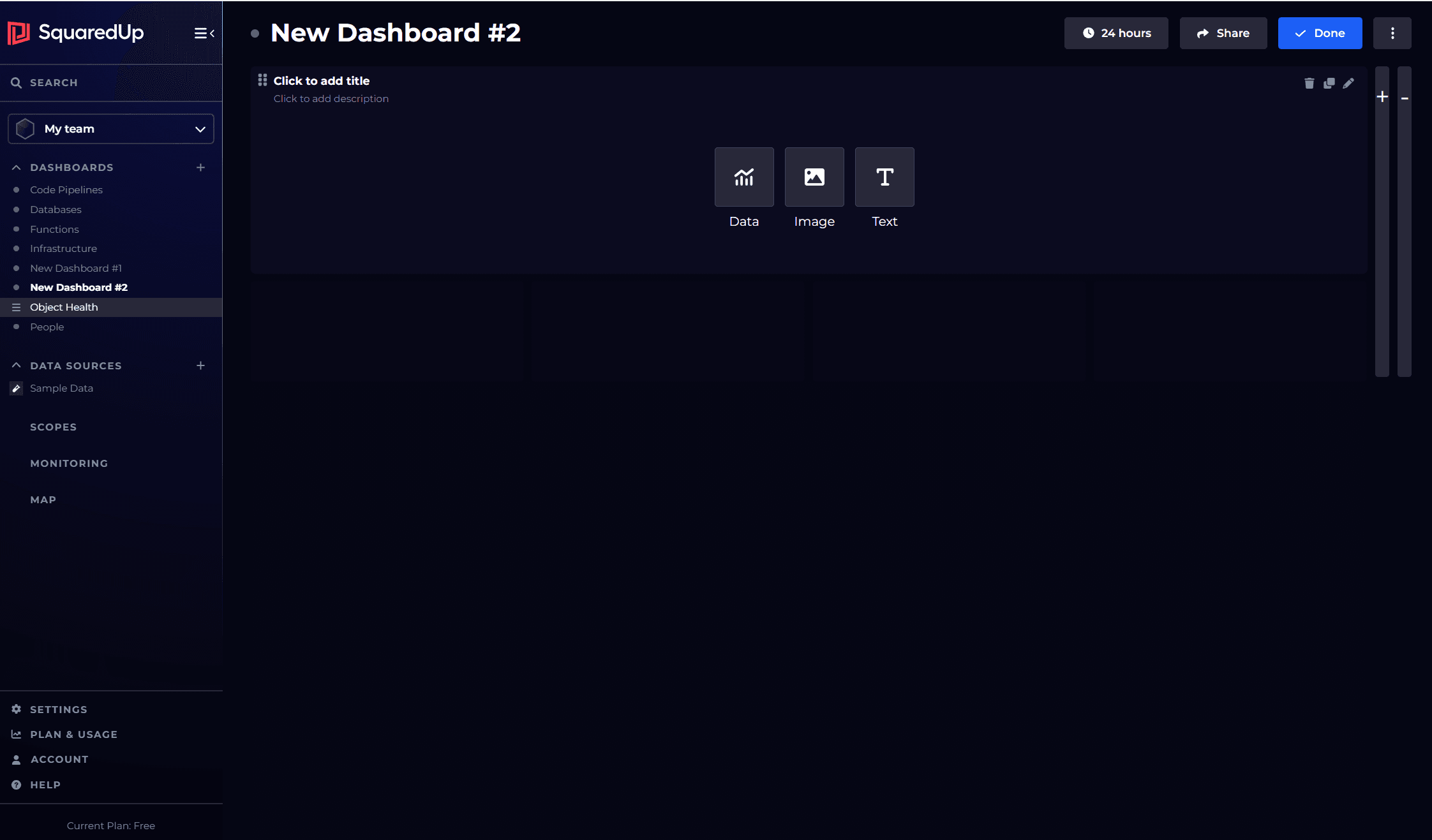 Configure the tiles on your dashboard by choosing the following: 
Data stream (e.g., a metric such object alerts) 
Visualization: choose from line graph, stacked bar, gauge and more visualizations. 
Monitoring: set custom monitoring thresholds and receive notifications to Slack, Teams, email, ServiceNow or custom webhook.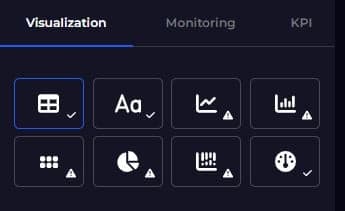 The visualization options are shown on the right of the dashboard designer. Which visualizations are offered to you depends on the data available, for example Line Graph will only be offered if there is time series data.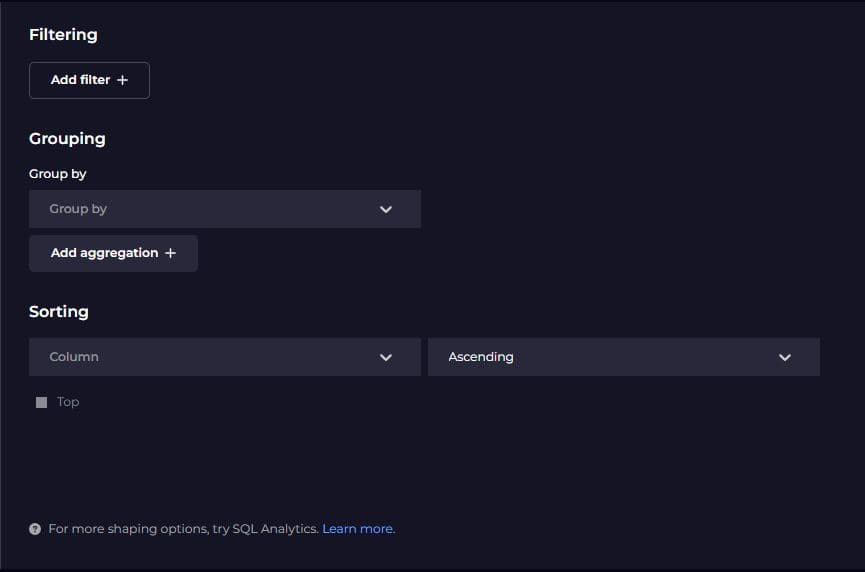 Customize your tiles even further by sorting, filtering or grouping the data, and setting custom timeframes. 
See how SquaredUp Product Manger, Dave Clarke, uses the beautifully simple dashboard designer to create an AWS dashboard visualization in under a minute: 
Getting the most out of your SCOM MI dashboard
Getting a dashboard up and running is a great start, but it's just that... a start. 
SquaredUp has many features that enable you to get so much more mileage out of its native integration with SCOM Managed Instance.  
To put these insights to use, you might want to set up monitoring and configure notifications (e.g., for email, Slack, Teams or ServiceNow). You can easily manage all your monitoring and notification settings in one place. Just head to the 'Monitors' tab of your workspace. 
When you monitor individual tiles within a Dashboard, you can roll up status to the Dashboard and Workspace levels. This enables management to have a summary view of the state of each project or team. It also provides teams and services with dependencies the cross-team, cross-tool visibility they need. 
Additionally, you could scope this Workspace to include additional, related tools – VMware, SolarWinds, Zabbix - to better connect, aggregate, and monitor crucial data across your tools, all in one place. 
All the best, and happy dashboarding!