How Arup achieved unified visibility across teams and tools
Arup – the global architecture and design firm behind iconic projects like Apple's "Spaceship" HQ, and La Sagrada Familia – needed to unify visibility across engineering teams, to deliver better services for their customers.
We wanted to create a modern observability platform with the tools we already had. SquaredUp provided the missing visibility piece.
Anthony Ashmead
Enterprise Monitoring Lead
The following is a write-up of Arup's presentation at AWS Summit London 2023.
Arup's data-driven approach
Arup is well known for pioneering the use of data and automation in the architecture and construction industry.
By connecting data from global libraries and their own data sets – on everything from performance metrics to design schematics and local climate data – Arup has been able able to correlate learnings from a huge body of prior work, drawing valuable insight. Leveraging these insights, they then help clients automate various aspects of the design process, significantly scaling their innovation capacity.
Arup's success has seen them expand to 18,000+ staff members and 90+ offices in 35 countries.
The Challenge:
Lack of visibility across teams and tools
Despite the success of their data-driven approach, Arup struggled with visibility across their technology applications and teams. This was exacerbated by the fact that they were in the process of migrating their on-premises infrastructure to the cloud. The need to increase visibility and remove silos, while allowing each team to retain data ownership, was more important than ever. 
The lack of centralized visibility also meant it was impossible to give Management a clear overview of performance and costs. To address this, Arup leadership issued a mandate to consolidate all monitoring across the business.
Arup's teams and tech stack
Underpinning Arup's offerings are five core data teams – each with their own tech stack – looking after different services within the business. There are often dependencies between the services and teams, which makes shared visibility all the more integral.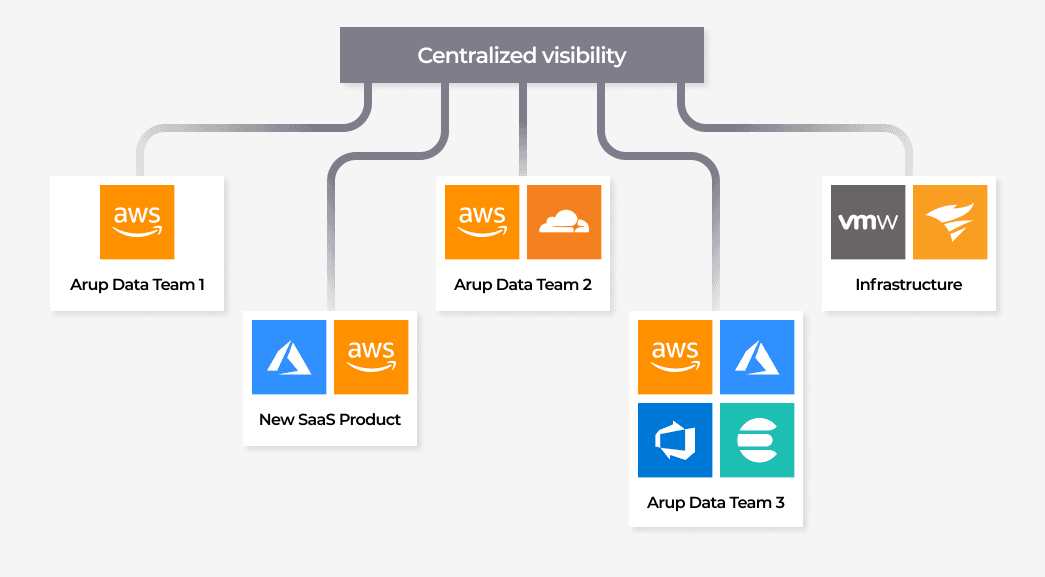 Our main problem was capturing our complex infrastructure monitoring. The data was across Azure, AWS, and other tools and we didn't have a central place to see all the data and do comparisons.
Arup's key objectives
Arup was seeking a solution that would fulfil the following criteria:
Provide centralized visibility across all tools
Remove siloes between teams
Self-serve – Teams retain data ownership
Multi-cloud
Scalable across the whole organization
Make data accessible and easily shareable
Avoid spending more $ on observability
Solutions Arup considered
BI tool: Arup considered Power BI but quickly decided that it would be impossible to scale. Pulling any data required complex queries and extensive analyst expertise. It was also difficult to create a dashboard for Management, as refresh and sync had to be reconfigured manually using Python scripts.  
Observability tool: They also looked at popular observability tools, but were concerned about the idea of ingesting all their observability data into a single monolithic data depository, and the potential cost implications.
Native cloud platform dashboards: Native AWS or Azure dashboards could not visualize data beyond one account – much less across multi-cloud.
Why Arup chose SquaredUp:
Centralized visibility without centralizing the data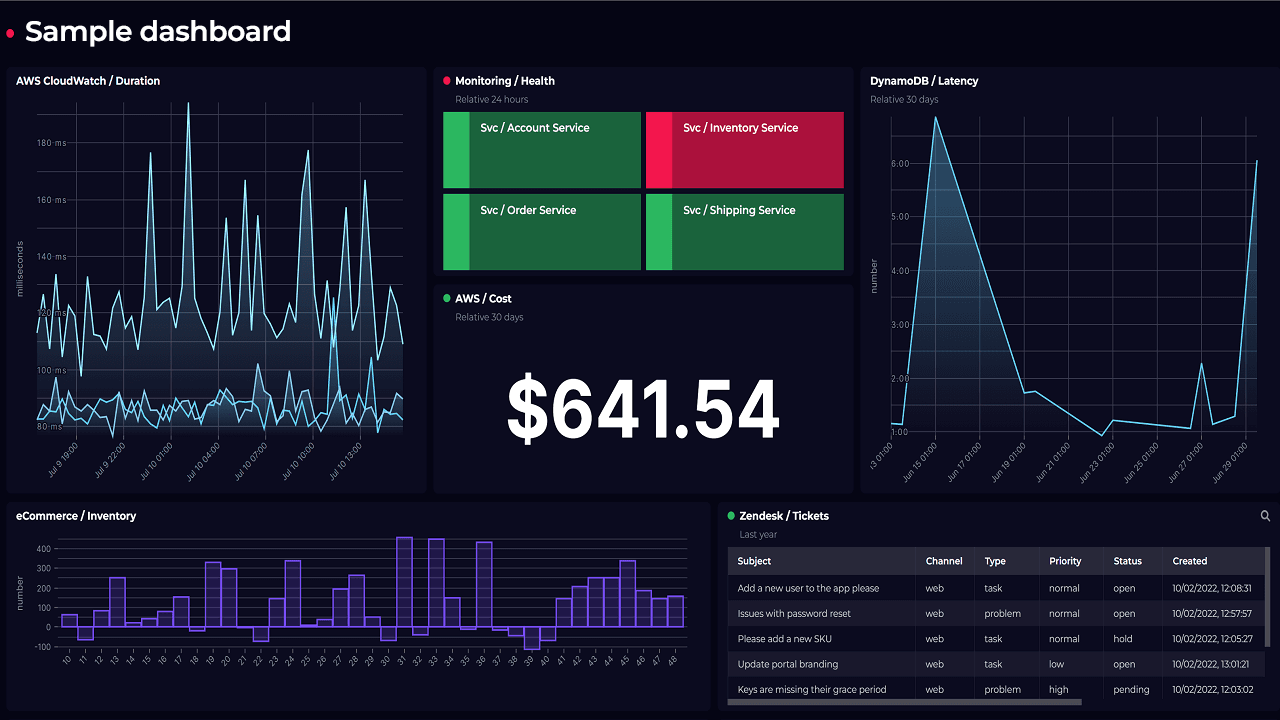 1. Breaking free from the data warehouse
Arup chose SquaredUp for its ability to integrate data from multiple sources without moving the data (leaving it where it lives). Instead, SquaredUp indexes and connects the data using a data mesh approach.
Other tools were very expensive because they charge by the amount of data ingested. The model SquaredUp uses – streaming data on-demand, ingesting only metadata and leaving the raw data in place – is a much better way of doing it.
No moving data
No data duplication
No per GB storage costs.

2. Instant access to 100+ data sources
SquaredUp's pre-built plugins – including AWS, Azure, Cloudflare, and Elasticsearch – make it easy for each team to visualize the data that matters to them. A range of plugins come with handy out-of-box dashboards.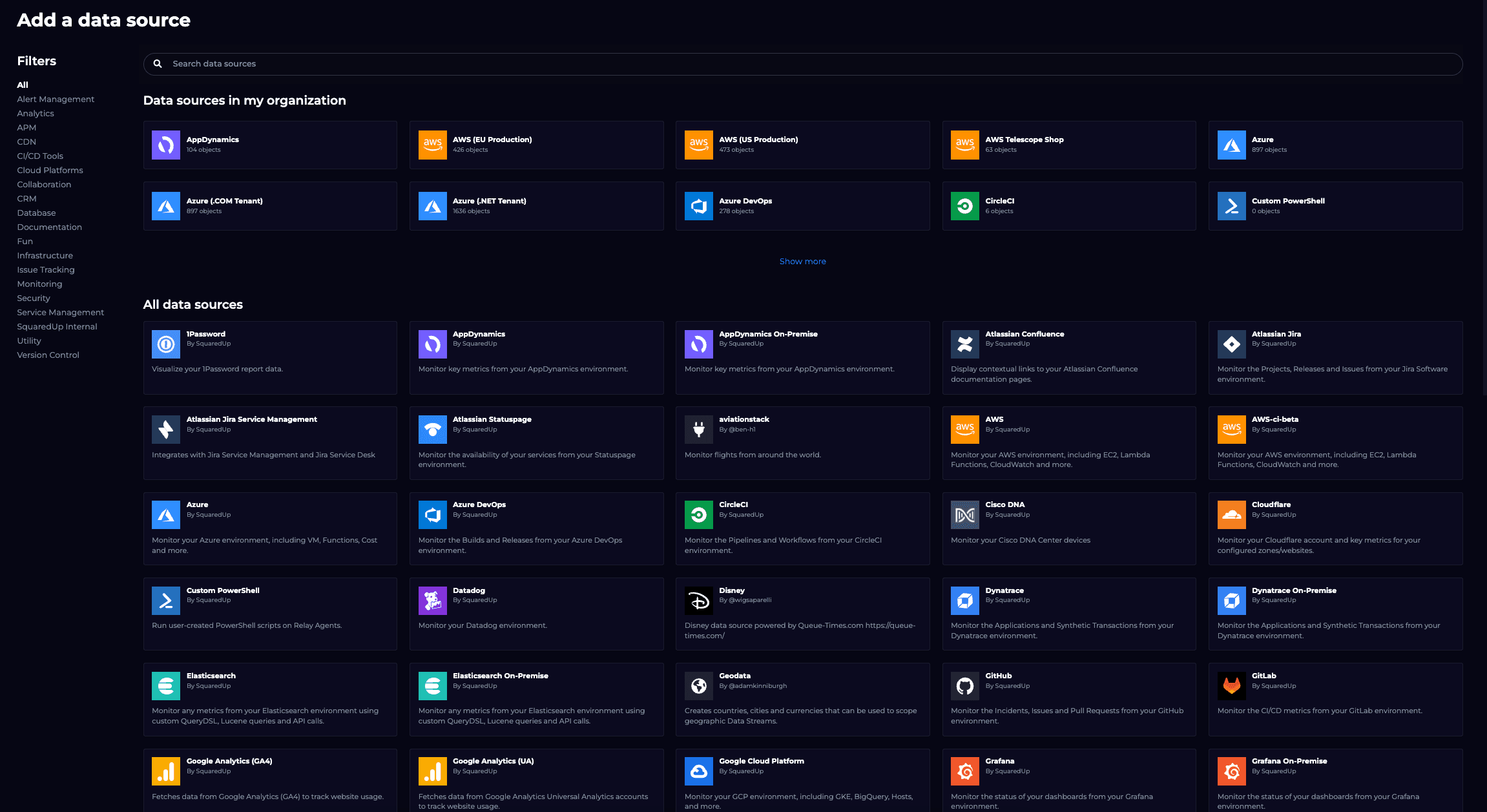 Having the plugins in SquaredUp makes connecting data sources point-and-click, whereas we'd have to work with the APIs ourselves in other tools.
With no analyst expertise required, each team now has the autonomy to create their own dashboards, monitors, and dependencies. Self-service means each team owns their data and KPIs.
The self-service piece is huge. Plus, there are the blind spots that the integrations cover. So it's a double or even triple benefit in most areas.
3. Business-level roll-ups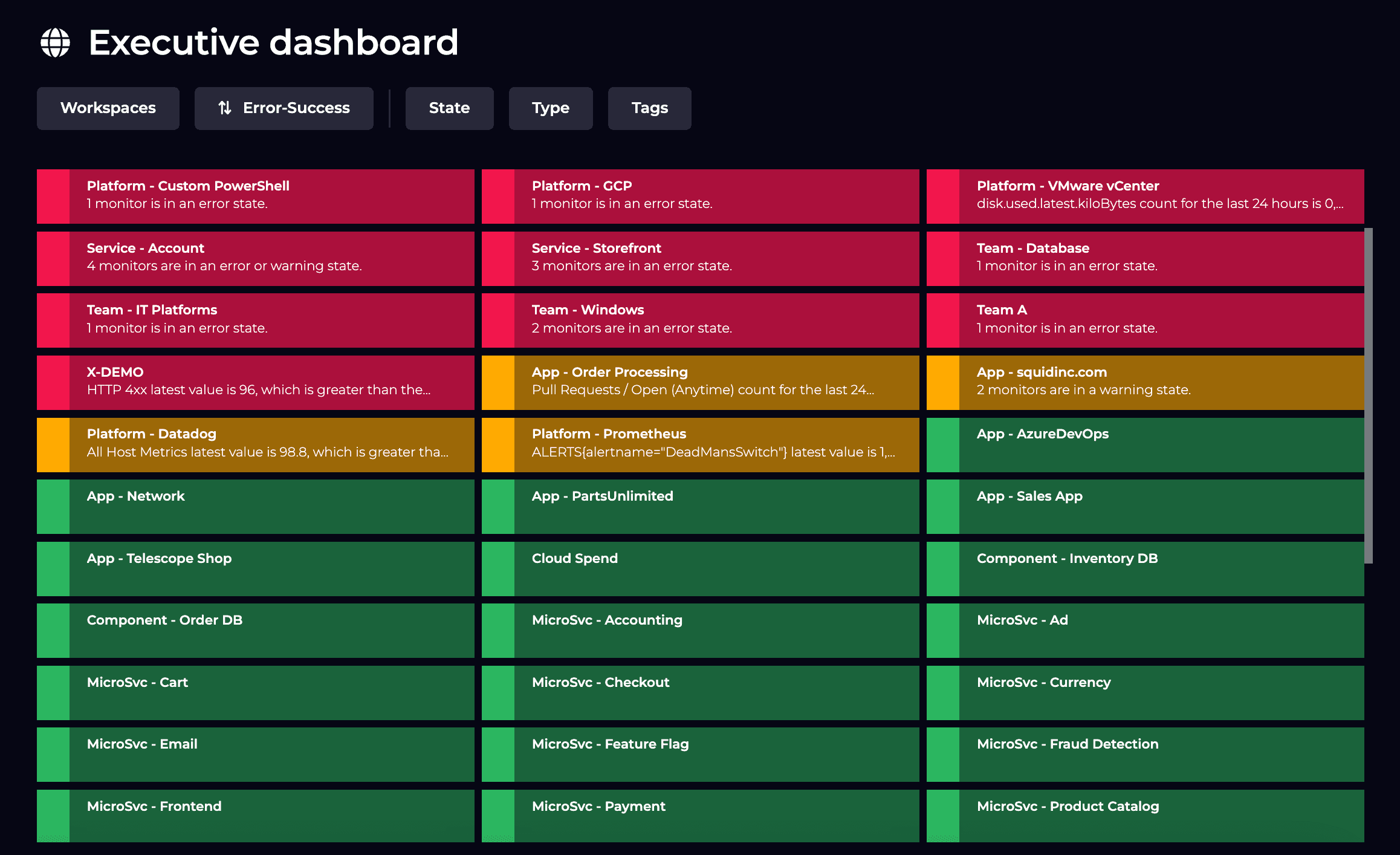 The ability to map dependencies and roll up status to a high-level dashboard meant that reporting high-level metrics to management was now that much easier.
Sharing is as simple as sending a link. Watch this video to learn more about our sharing feature.
It was now also easier and quicker to troubleshoot incidents and proactively fix issues.
Arup's success with SquaredUp
Arup continues to grow their usage of SquaredUp across teams. Certain dashboards are used by the DevOps team in their daily stand-ups to review infrastructure and performance. Other dashboards are used by the Enterprise Monitoring Platforms team to keep tabs on business-critical monitoring. Many of these roll up into a dashboard for Ash himself, the Enterprise Monitoring Lead. There are also dashboards for Management. It is the one tool they use for 360° visibility.
Try SquaredUp for your organization for free
If Arup's journey resonates with you, why not try SquaredUp for free? Get three users and unlimited dashboards free forever. No trial period or credit card required.