Challenge
While the querying and visualizations in Jira are decent, it is not possible to combine them with data from any other sources. It is also a known limitation that when accessing the Jira Web API, you are often limited to 100 results per query. Moreover, any dashboard you build can only be shared with people with a Jira license, severely limiting its reach.
Dashboard walk-through
The dashboard is split into two columns. The first column focuses on the next release using the Jira field 'fixVersion'. You can see the release roadmap, release completion, epic status, task status and bug fixes.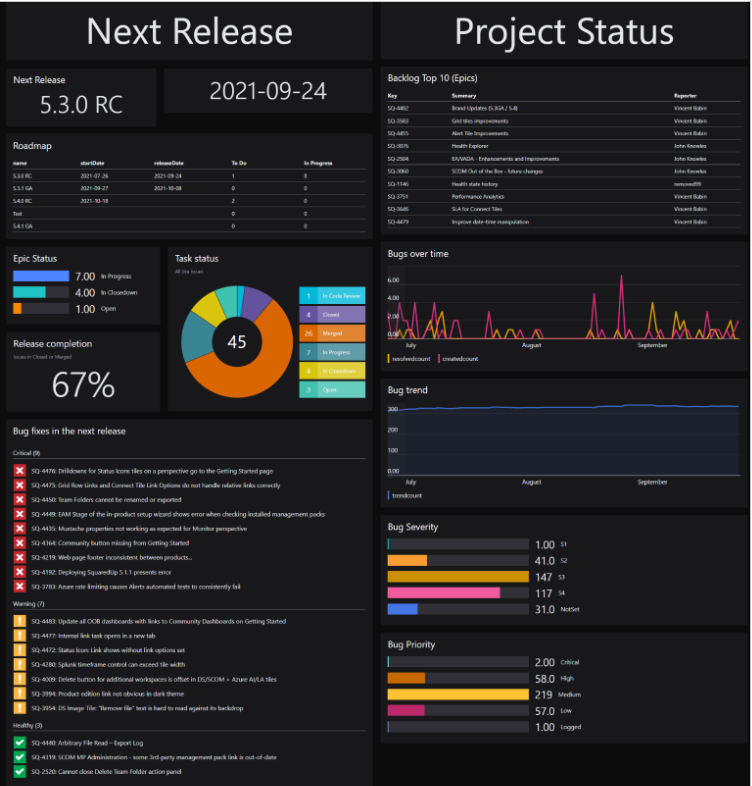 The second column groups data based on the name of a specific project. You can see the Top 10 epic backlog, bugs over time, as well as the bug trend, severity and priority.
To clarify, release completion is calculated by total issues Closed or Merged, divided by the total issues in the release. This can be further fine-tuned to only look at the specific issue types that are important to you by changing the API call in the PowerShell script.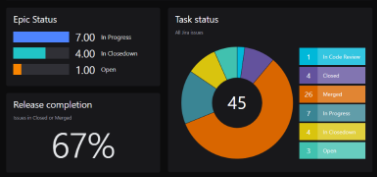 Similarly, on the Project side, the Top 10 list (Web API) can be set to any issue type by adjusting the API call. The bug trend line is calculated in the PowerShell script with the formula "total bugs open + new bugs – bugs closed or merged".