How do I import and configure this dashboard?
1. Make sure you've upgraded to SquaredUp 5.3 or above.
Already a SquaredUp customer?
Get the latest version
New to SquaredUp?
Try it for free
2. Create a PowerShell profile in SquaredUp.
Name
Pingdom
Note: The name is case-sensitive and must be entered exactly as given here for the tiles to recognise the profile automatically. If you name it differently, you will need to select the profile manually for each tile on the dashboard.
Description
Sets the Pingdom API endpoint, changes step and rate values based on the timeframe of the page, and gets the page timeframe start and end.
Script
Copy and paste the script below. Modify the PowerShell profile to replace ***TOKEN GOES HERE*** with your Pingdom API token without the asterix.
3. Download and import this dashboard pack.
Download the zip file below and in the product go to the top right hand menu ☰ > Import Dashboard Packs and drag the zip file into the Manual Import box.
4. Finally you need to edit the dashboard to enter the Pingdom check IDs and names for the checks you wish to display.
Each tile that needs editing has a subheading showing what is needed.

Copy the checks ID or name you want from the PowerShell grid tile titled Monitors Details at the bottom of the dashboard. If you prefer, then you can find the check IDs and names in Pingdom as described below.
Dashboard JSON says the check IDs and names can be found in the 'check detail' below which completely confused me, until I realised that a tile below is called 'Monitors Detail' and the info is there. Can the JSON be updated to say: "Check IDs and names can be read from the 'Monitors Detail' tile on the dashboard itself".

5. Edit each tile and enter the required checks ID or name into the script section of the tile configuration.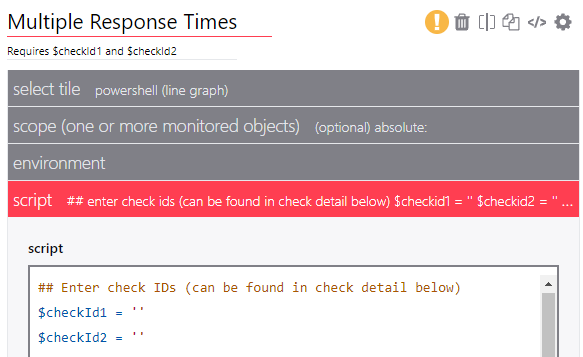 So it looks like this, but with your own check IDs: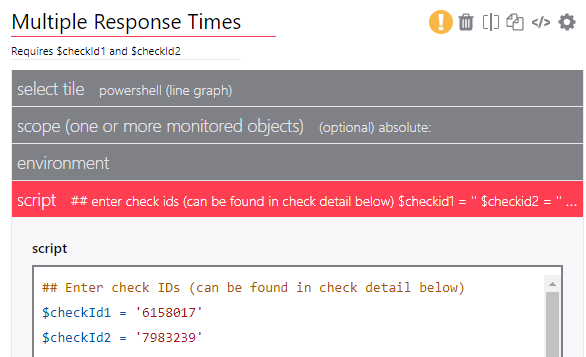 6. Click Apply Changes > Done.