Zendesk ticket summary
This Zendesk dashboard built in SquaredUp provides an overview of the support tickets that have been raised in Zendesk, information on tickets created, against which form, what status they are in, and how many when taken by users.
Mike Halfacree
Customer Support Manager
Dashboard Preview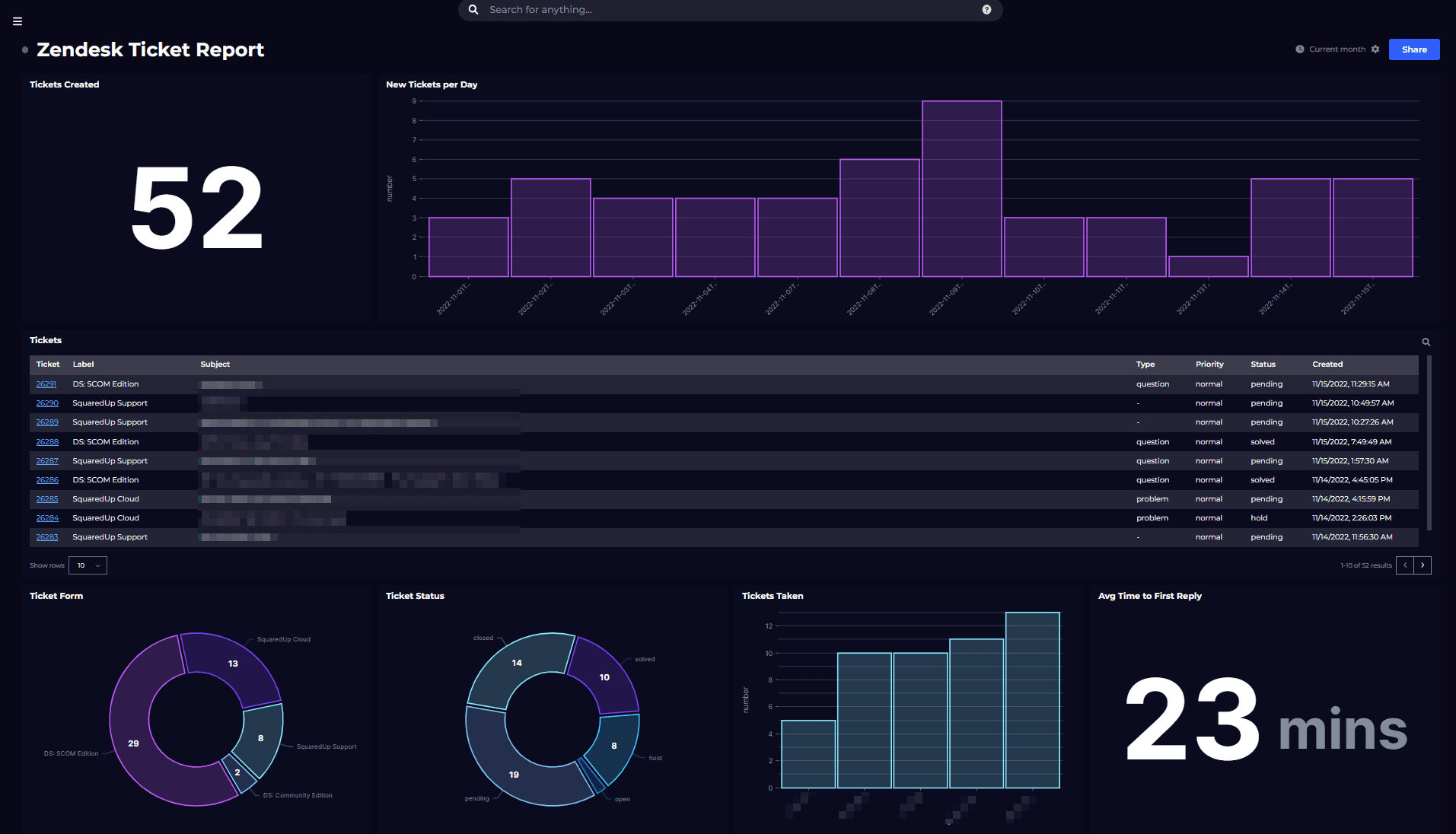 Challenge
Although Zendesk provides customizable dashboards, your Zendesk metrics aren't visible to anyone who doesn't have access to the tool. This means that the Support Team data is siloed from other teams and you can't share successes and blockers with others.  
Solution
By visualizing your Zendesk data in SquaredUp, you can display and report on service desk ticket statistics to the rest of the business service without needing to give individuals access to Zendesk. You can display the Zendesk dashboards on a wallboard and share them with others.  
It's also easy to configure the relevant data streams for pulling the data from Zendesk – no need to write queries in Zendesk Explore.   
Dashboard walk-through 
The first row of data in the SquaredUp Zendesk dashboard is made up of a scaler visualization to show the number of new tickets created and a bar chart visualization tile to show a breakdown of how many tickets were created per day. 
The second row is using the table visualization to list out the tickets that were received per the dashboard timeframe. The Ticket ID is link enabled, allowing you to click on it and be taken to the ticket in Zendesk (this requires a logon account in Zendesk). 
The third row has 2 donuts, 1 bar chart, and a scaler visualization.  The first donut tile is a breakdown of tickets created by Ticket Form, the second is showing the status of those tickets. The bar chart is showing how many tickets have been taken by selected users and the final visualization is a scaler tile which is calculating the median time to first reply to a ticket, via the 'Reply Time (Business)' value.   
Get the dashboard
This Zendesk dashboard has been built using our out of the box dashboard, so you can expect to be up and running in minutes.
Add the Zendesk data source
Just hit the toggle to automatically add out of the box dashboards to your workspace, and instantly view your live data
To see what other dashboards you can create, check out our Dashboard Gallery.