Launching a new dashboarding experience 
New dashboard designer, even more data sources and other exciting features!
Jason Baudreau
VP of Product, SquaredUp
Since we launched the new SquaredUp last Fall, our focus has been making it easier than it's ever been to connect to any data source, build beautiful dashboards, and share them with anyone. Today we're excited to announce a fully redesigned dashboarding experience that does just that. 
The new dashboarding experience remains backed by data mesh technology, which means your data stays where it lives – it's simply stitched together and available on-tap from the source. Learn more here. 
This milestone brings together several exciting updates: 
New dashboard designer
With our new dashboard designer, it is now even easier to visualize your data in SquaredUp. Watch the demo video to see Product Manager Dave Clarke put together an AWS dashboard in under a minute. 
In designing this feature, we opted for a data-first approach – allowing you to quickly find the metric or query you're looking for. We've also streamlined the UX to ensure you can easily shape the data, configure your visualization, or add monitoring. All in a few clicks. 
Using the power of our knowledge graph the new designer also prompts you to select relevant objects, streamlining the process further. For example, as seen in Dave's demo, when selecting the Lambda Duration metric, you'll be shown a list of available Lambda Functions from your connected AWS accounts. 
Watch the video to see the new dashboard designer in action. 
New data sources and out-of-box dashboards
We're constantly learning from customers about the data that matters most to them. We've recently added support for a total of 100+ data sources including Jenkins, Cisco DNA and VMware. We've also updated some of our most popular plugins with new data streams and out-of-box dashboards, including Azure, AWS, GCP and many more. 
Excitingly, we've also launched a new Web API plugin that lets you connect to anything with an HTTP API.  
This plugin is designed for the less common data sources that we don't offer pre-built plugins for. Easily connect to any data source, including fun ones like the Star Wars API shown in the video above, or your internal connections. This plugin extends SquaredUp to offer all the versatility you need. Watch the video to see how easy it is to use. 
If you'd like to suggest a new plugin, or provide feedback, fill in the form here – or better still, take a stab at connecting your own data sources via Web API. Our support team is always happy to lend a hand!
Flexible sharing
Don't keep all those juicy dashboards to yourself, insights are meant to be shared! SquaredUp now offers a flexible dashboard sharing experience for more access control. 
You can now share dashboards with anyone via a link, or limit viewing permissions to a specific group within your organization. See the sharing feature in action. 
New visualizations
We're all about visibility, so you can always count on new visualizations. We've recently introduced stacked bar charts, a new gauge visualization, image and text tiles, and tons of enhancements to our existing visualizations too. Watch these videos to get the low-down on each new visualization. 
Stacked bar visualization
The stacked bar graph is especially useful for metrics with multiple objects you need to show over a period of time, such as cost metrics. 
Text and image tiles
These tiles allow you to add text and images alongside your data, perfect for adding context to your dashboard.  
Gauge visualization 
The gauge visualization lets you display your metrics against a certain threshold on a sliding scale. 
Let's celebrate with a competition
Given all the enhancements, we think it's a great time for everyone to try the new SquaredUp dashboarding experience... so we're launching a dashboard competition!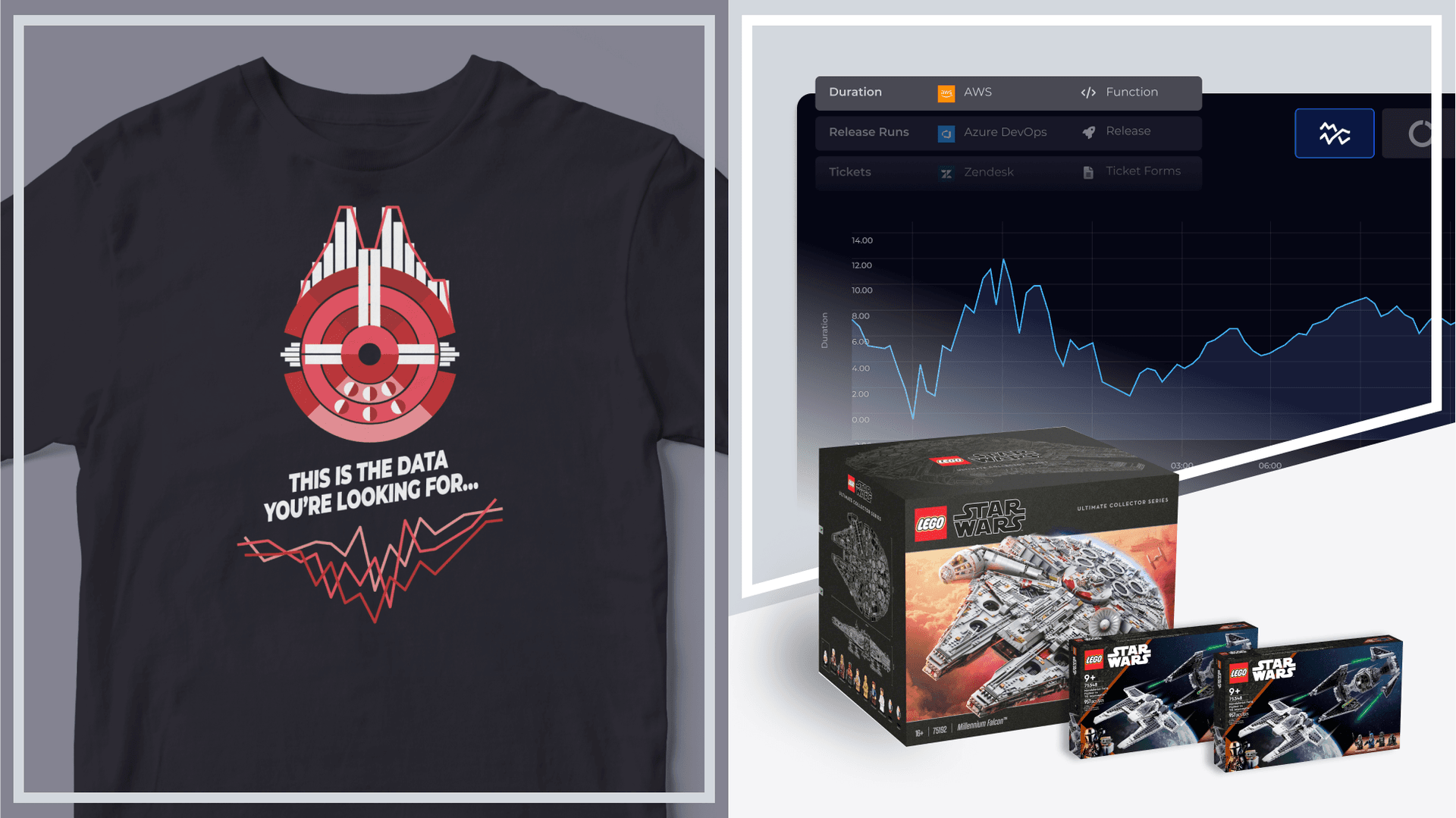 Build a SquaredUp dashboard and share it with us between May 15 and June 14, and we'll mail you a free #DataJedi T-shirt. We also have Star Wars LEGO as prizes for the best dashboards – those with style and substance – including a grand prize Millennium Falcon worth over $700.
Find out more on how to enter here, we can't wait to see your submissions!
For more details on what else is new in SquaredUp, check out our official changelog. If there's a specific plugin you'd like to see added to the product, head over here to let our Product team know. We'd love to hear from you. 
As always, Happy Dashboarding!